The Best Food Storage Ideas to Keep Your Food Fresh and Organized
The Best Food Storage Ideas to Keep Your Food Fresh and Organized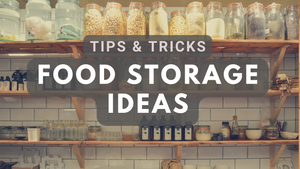 If your pantry is overflowing, your fridge is packed, and your cabinet doors don't close anymore, we have some of the best food storage ideas for you.

This article covers how to give your kitchen storage a makeover by creating an organized and clean food storage space and investing in food storage containers that will ensure your favorite items don't go to waste.

Let's get started!
3 Steps to Prepping Your Food Storage Space
A clean, organized food storage space is a great way to ensure you're always ready to stock up and save money with your food prep strategy and that your cooking essentials are always within reach.
1. Discard Excess Inventory
Discarding excess inventory from the pantry, cabinets, and fridge is the first important step in kitchen storage and organization. This means looking through the pantry space, cabinets, and shelves for expired items or anything you no longer need.

Perhaps you changed your eating habits recently. There may be items you no longer use, like certain canned goods that haven't expired yet. Consider donating these items to free up space.
2. Take Stock of What You Have and What You Need
Now that you have discarded what you don't need, it's essential to assess what's left, plus what additional items you'll plan to store. Knowing what kind of food you plan on storing is vital to plan out the best storage solutions.

Are you planning to buy rice and pasta in bulk? Do you want to food prep for the week and need room for grab-and-go snacks? Knowing what you'll need will help you create a plan for your space.


3. Deep-Clean Your Food Storage Space
Lastly, grab your cleaning supplies and give them a deep clean if it's the pantry, cabinet, or fridge. Whether you plan to store rice, spices, fresh herbs, or dried fruit, keeping any storage area clean is essential.

It's also essential to keep your kitchen storage area, like a pantry or kitchen cabinets, clean from any dust, dirt, or excess food that could attract insects. If you also store kitchen essentials in your pantry or cabinets, such as cutting boards, small appliances, or other kitchen utensils, ensure they are clean before placing them in your storage area.

If your kitchen storage area is limited and you use a food storage area in the garage or basement, consider investing in a dehumidifier to keep the area dry. This can also help prevent attracting insects, as well as mold growth.
The Best Food Storage Organization Ideas and Food Storage Supplies
Now that you've discarded any expired food, got your canned goods in order, and deep-cleaned the food storage area, it's time to organize the space and invest in the best food storage supplies.

Having a food organization plan means you'll always have easy access to your items because you'll know exactly where to look. Plus, by investing in the right storage supplies, you'll keep your food items fresh for much longer.

So first, we'll discuss how to prepare your food storage area with some organization ideas. Second, we'll cover the best food storage containers and other tips for storing food.
First, Maximize Space with Shelves, Cabinet Organizers, and Labels
Of course, an effective pantry space or storage area means having room for all your food items. But for those with small kitchens or trying to utilize other small spaces, this can seem challenging.

Whether you're dealing with limited storage options, awkward tall cabinets, or tight shelf space, here are some tips to help you find extra storage and ensure you have absolutely no wasted space.
1. Adjustable Shelves
Regarding food storage, invest in adjustable shelves for your pantry. You can adjust the shelves based on your food items and supplies, such as bins, baskets, mason jars, containers, etc.

Additionally, you can adjust the shelves to custom-fit your pantry or storage area to be sure to utilize all the available space. Even if you have built-in interior shelves already, you can instantly create extra space by installing adjustable shelves.

2. Cabinet organizers
The possibilities are limitless to help you organize your kitchen cabinets, fridge, and pantry shelves. From bins and baskets from the Dollar Store to custom drawers and clear containers from a local container store, it all depends on your food items and the available space.

Some organization ideas include:
Slide-out cabinet shelves: The perfect easy access storage solution if you keep losing food and other items in the back of your shelves.
Shelf Maximizers: Not only is having enough shelves important but maximizing shelf space is just as critical. A multi-tiered shelf riser or vertical tray sorter for storing baking sheets, for example, is a great way to turn those items to the side, so it creates more space. If your family loves canned goods, canned food storage racks can double your shelf room.
Labeled Baskets: Big labeled baskets are great for storing items in your pantry, like onions and potatoes. You can also invest in small baskets for food storing essentials like freezer bags, markers, and labels.
Lazy Susans: If your kitchen storage includes corner cabinets, it can be hard to utilize all the available space or be able to store and reach anything when needed. A cabinet lazy Susan helps store items and keep them easily within reach.
Door-Mounted Food Storage: Utilizing doors is a great way to maximize kitchen storage. Your pantry doors can be a handy way to store your food or your other kitchen gear, like pot lids or your favorite cutting board. Or turn a cabinet door into your next spice rack for easy-to-reach salt, pepper, and spices.
A smart labeling system
You can use a dry-erase marker, invest in multi-use labels, or get creative with chalkboard paint, but no matter what you choose, when you add labels to your food, it helps you stay organized.

Especially if storing food for long periods is a goal, such as canned goods, it's important to add labels that include expiration dates or storage dates, so you can organize and rotate items so that you use the oldest items first.

Additionally, labels are important when you aren't using clear containers for storage. Initially, clear containers seem like a good idea so you can easily see what's inside. For some items, these are fine, but these kinds of containers aren't ideal for storing sensitive foods, such as expensive spices, coffee, and tea. 
Second: Invest in Long Term, Airtight Food Storage Containers
For essential items like flour, white and brown sugar, salt, rice, pasta, and other bulk items, it's critical to use airtight containers. These containers will help keep the items fresh and safe from bugs and will also help keep the cabinets and shelves organized.
The TV-5 is perfect for storing buns, bagels and other types of food!


How Do Airtight Food Storage Containers Work?
Airtight food storage containers are different than your ordinary plastic container. For example, Tightvac's airtight containers use a patented vacuum seal that forces the air out when you push down the cap.

Removing the air prevents food from absorbing the moisture that can cause clumping or food from going stale. Additionally, such a tight seal prevents air, moisture, and critters from getting in, protecting your food until it's ready to use.
Food storage containers for your pantry, cabinet, and future recipe ideas
You can find Tightvac's airtight food storage containers in various sizes to keep your pantry and cabinet items organized and fresh, such as:
*When it comes to storing spices, we highly recommend our very own airtight Spicevacs - they can labeled easily and feature a built-in shaker screen design for hassle-free dispensing of herbs and spices.
Don't forget: Pair Your Containers with Their Lids
To ensure your (airtight) storage does the job, make sure to pair every container with the right lid. Properly pairing each container will ensure your items stay fresher longer.

Additionally, be sure to store every container with the right lid when not in use. Hand wash each one with warm, soapy water and rinse thoroughly. Let it air dry and store it with the appropriate lid, so it's always ready to use.
Bonus: Pet Food Storage Ideas
You can also utilize many of the same food storage ideas when it comes to your furry family members. If you have a cat, dog, fish, or hamster, it's just as important to keep their food fresh and safe.

One of the most popular forms of pet food is canned food. You can store canned food using labeled bins and baskets or canned food storage racks.

And when Fido or Fluffy can't finish their meal, Pawvac (airtight) pet food containers are ideal for storing any leftovers.

If your pet prefers dry food, airtight storage solutions allow you to buy in bulk and measure the right amount for your pet each day. Or you can place all the dry food in one large airtight container, such as the Pawvac TV7 container (which holds approximately 4 lbs of cat and dog food), and scoop out a fresh serving for every meal.


Your Organized Food Storage Journey Starts Now
Taking the time to prepare your storage area properly can help ensure that you are always stocked up and ready for anything.

By following the tips above, you should create a storage area that is efficient and organized while keeping your food fresh. Then, with a well-prepped storage area, you can rest easy knowing that you have everything you need for anything, from special occasions to daily weeknight dinners.